Great Lengths 100% Natural Human Hair Extensions
Long Island's Finest Hair Extensions. From adding length and volume to providing a pop of color, Great Lengths 100% natural human hair extensions can be used to create a variety of looks to perfectly reflect your mood and style, while adding length and thickness to your hair. And Great Lengths hair extensions are completely undetectable.
Great Lengths 100% natural human hair extensions are renowned for its fashion statement in the celebrity industry and are worn by celebrities like Jennifer Anniston, Jessica Simpson, & Paris Hilton. Great Lengths hair extensions are truly the best in the world.
The Great Lengths Hair Extensions Difference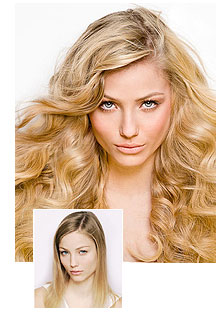 This is the finest of virgin hair available in the marketplace that is most compatible with Caucasian and European hair textures. Great Lengths Hair Extensions also use a strand-by-strand fusion extension application process that attaches a tiny keratin bond to your natural hair, providing a seamless invisible bond, for an active lifestyle, or just the security of it being your secret without doing damage to your existing hair.
The only processes performed on Great Lengths hair is its unique colorization process. These are the only hair extensions that do not use any toxic chemicals (i.e. ammonia and/or bleach derivatives) in the de-pigmentation and pigmentation process of our hair. The result is colorfast hair that has not been subjected to damaging ammonia and/or bleach chemicals to remove the hair's original color.
100% Natural Human Hair Extensions
Great Lengths hair extensions offers over 40 vibrant natural shades to precisely match the color of your own hair. Strands are available in lengths from 8 inches to 24 inches. Accommodating an individual's hair density can be achieved by converting standard bonds to create fine, extra fine and custom sizes. Consult with a professional to decide whether a full head lengthening, volumizing, highlighting or zonal volume application is right for you.
Certified Stylists
Our certified stylists have attended the most intensive and effective training which has been recognized as the industry's best in category. No other company requires or offers the in-depth education that Great Lengths does.
With Great Lengths hair extensions, you do not need to limit your active lifestyle in any way. You can swim, shower and exercise just as you always do.
Increased Hair Volume
At Hair Solutions of Long Island, we realize that it's not always about length. Many of our hair extension clients are seeking more volume due to their own thinning, weak or damaged natural hair. Even with all the excellent professional volumizing products available, nothing compares to the real thing – thick, healthy human hair.
With Great Lengths hair extensions, you can now give your hair the fullness you want in order to look great with very little effort. You will be amazed at the transformation that occurs, not only in your hair but also in your outlook!

Excellence in the Art of Hair Restoration
With over 20 years experience, we have the experience to address every type of hair loss. Our professional staff will help you identify the best approach and answer all your questions. Schedule your private, complimentary hair loss evaluation today and see how easy it is to be yourself again!
CALL TO SET YOUR APPOINTMENT

>

Levittown: (516) 399-7021
Commack: (631) 253-1106