[vc_row][vc_column][vc_column_text]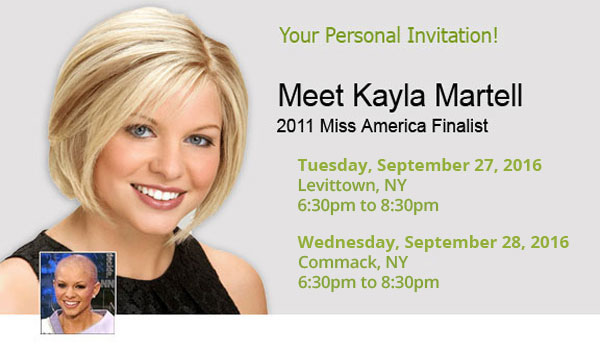 Special Women's Hair Loss Seminar
Meet Kayla Martell, 2010 Miss Delaware
[/vc_column_text][/vc_column][/vc_row][vc_row][vc_column width="1/2″][vc_column_text]
When:

Tuesday, September 27, 2016

6:30pm to 8:30pm

Where:

3601 Hempstead Tpke,
Ste. 510, Levittown, NY 11756

Hosted by:

Hair Systems of Long Island
[/vc_column_text][/vc_column][vc_column width="1/2″][vc_column_text]
When:

Wednesday, September 28, 2016

6:30pm to 8:30pm

Where:

366 Veterans Memorial Hwy
Commack, NY 11725

Hosted by:

Hair Systems of Long Island
[/vc_column_text][/vc_column][/vc_row][vc_row][vc_column width="1/2″][vc_column_text]
SPACE IS LIMITED – MAKE YOUR RESERVATIONS NOW.
DON'T MISS OUT ON THIS AMAZING OPPORTUNITY.
Kayla Martell will be in New York to personally help kick off her new national tour of Women's Hair Loss Seminars with free advice and private counsel for women experiencing medical hair loss.
Those attending this free Women's Hair Loss Seminar will learn
About the science of hair
Hair loss and its emotional toll on women
How to tell if hair loss is temporary or permanent
And most importantly – the solutions available for women
Whether your hair loss is temporary or permanent, you owe it to yourself to be informed about your potential options and solutions. Today, there is someone ready to help you!
Make Your Reservations Now.
Call ~ Levittown: (516) 579-1500 or
Commack: (631) 864-5656
In addition, all attendees will receivea FREE private hair & scalp analysis.
[/vc_column_text][/vc_column][vc_column width="1/2″][vc_column_text]
Meet Kayla Martell
REGISTER TODAY
Space is Limited.
[contact-form-7 id="805″ title="Womens Hair Loss Seminar"]
[/vc_column_text][/vc_column][/vc_row]